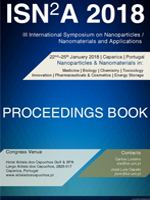 Dear Colleagues and Friends,
On behalf of the organizing committee, we are delighted to welcome you to Caparica (Lisbon, Portugal), for the 3rd International Symposium on Nanoparticles-Nanomaterials and Applications (3rd ISN2A-2018).
The Symposium will take place in Costa de Caparica (http://vimeo.com/4939136) the 22nd, 23rd, 24th and 25th of January 2018.
We cordially encourage you to attend and contribute to one of the major events in 2018 on the – Nano field.
We are confident that you will appreciate the breadth and quality of the scientific program and the city of Caparica, and look forward to seeing you in 2018 in Portugal.
Symposium Subjects:
Nanoparticles/Nanomaterials in Environmental Sciences
Nanoparticles/Nanomaterials in Medicine
Nanoparticles/Nanomaterials in Biology
Nanoparticles/Nanomaterials in Chemistry
Toxicology of Nanoparticles/Nanomaterials
Nanoparticles/Nanomaterials in Innovation
Computational Studies in Nanoparticles/Nanomaterials
Nanoparticles/Nanomaterials for Energy Storage
And last, but not least, we have some of the best in the arena:
Plenary Speakers
Jesus Santamaria, PhD

Nanoscience Institute of Aragon, University of Zaragoza, Zaragoza (Spain)


Direct heating of catalytic nanoparticles in a microwave field. Energy savings and high reaction selectivity

Sara Bals, PhD

EMAT, University of Antwerp (Belgium)

3D investigation of nanomaterials by electron tomography

Claus Michael-Lehr, PhD

Helmholtz-Institute for Pharmaceutical Research Saarland (HIPS), Helmholtz Center for Infection Research (HZI) (Germany)

Drug Delivery Technologies for combatting and preventing Infectious diseases

Isabel Pastoriza, PhD

University of Vigo, Vigo (Spain)
Plasmonics for imaging and sensing based on Surface enhanced Raman scattering

Lyudmila Bronstein, PhD

Indiana University, Department of Chemistry (USA)

Magnetically recoverable catalysts: Does the magnetic support matter?

Ajayan Vinu, PhD

University of Newcastle, Newcastle (Australia)

Multifunctional Nanoporous Materials and their Applications
Keynote Speakers
Andriy Voronov, PhD

Coatings and Polymeric Materials, North Dakota State University (USA)

Plant Oil-Based Latexes for Paints and Coatings Applications

Laura Raurell, PhD

Facultat de Química, Universitat de Barcelona, Barcelona (Spain)

Nanostructured gold systemes derived form pre-organized supramolecular structures

Anna Roig, PhD

Nanoparticles and Nanocomposites Group, Materials Science Institute of Barcelona (ICMAB-CSIC), Barcelona (Spain)

Engineering Bacterial Cellulose Nanocomposites

In Su Lee, PhD

Pohang University of Science and Technology (POSTECH) (South Korea)

Nanocrystal Conversion Chemistry Confined within a Nano-sized Solid-State Medium

Valtencir Zucolotto, PhD

Nanomedicine and Nanotoxicology Group, University of Sao Paulo, IFSC/USP, São Carlos (Brazil)

Nanomedicine and Nanotoxicology: Theranostics Materials and Toxicological Studies from the Nanoreg-Brazil Platform

John Rabolt, PhD

Department of Materials Science and Engineering University of Delaware, Newark, Delaware (USA)

AFM-IR Spectroscopy and Imaging of Polymeric Fibers and Single Crystals at the Nanoscale

Vladimir M. Mirsky, PhD

Brandenburg University of Technology Cottbus – Senftenberg Faculty of Environment and Natural Sciences Campus Senftenberg (Germany)

Detection of Nanoparticles of Engineered and Biological Origin by Wide Field Surface Plasmon Microscopy

Suzanne Giasson, PhD

Department of Chemistry and Faculty of Pharamcy, Universite de Montreal, 2900, boul. Édouard-Montpetit, Montreal, Quebec (Canada)

Controlling surface properties using two-dimensional responsive nanoparticle arrays

Pradip Mascharak, PhD

University of California, Santa Cruz (USA)

Mesoporous Silica Based Nanoparticles for Site-specific Delivery of Small Signaling Molecules
The Oral Speakers can be viewed here
On behalf of the scientific and organizing committees,
Carlos Lodeiro-Espiño
José-Luis Capelo-Martinez
---
Warning for participants
Please note that Exhibition Housing Services, Exhibition Housing Management and Trade Show Housing do not represent the PROTEOMASS Scientific Society nor BIOSCOPE group, nor have PROTEOMASS Scientific Society or BIOSCOPE Group authorized them to use their names or trademarks on information they send out to participants.
---
Be aware of cold calls from Convention Hotel Services (CHS) or from someone named Adam Max! A company called CHS (Convention Hotel Services) is calling or e-mailing attendees of conferences worldwide, claiming to work for the conference organizers and asking for credit card details to finalize the booking of accommodation. If you receive such a call or e-mail, do not give away any personal information or credit card details! None of the parties involved in the organization of ISN2A2018 is working with CHS. 
We look forward to seeing you soon.
With kindest regards
The BIOSCOPE Team
---
MIND!!: Booking must be done directly with the HOTEL. Internet or travel agency bookings do not included meals and social events. See the Venue Registration section for more information.
Booking through the Internet and/or travelling agencies will imply additional cost for meals:
        • 15€/lunch/person/day
        • 22,50€/dinner/person/day
           no social events